Measuring instruments : do you need to equip a laboratory for the verification of your production?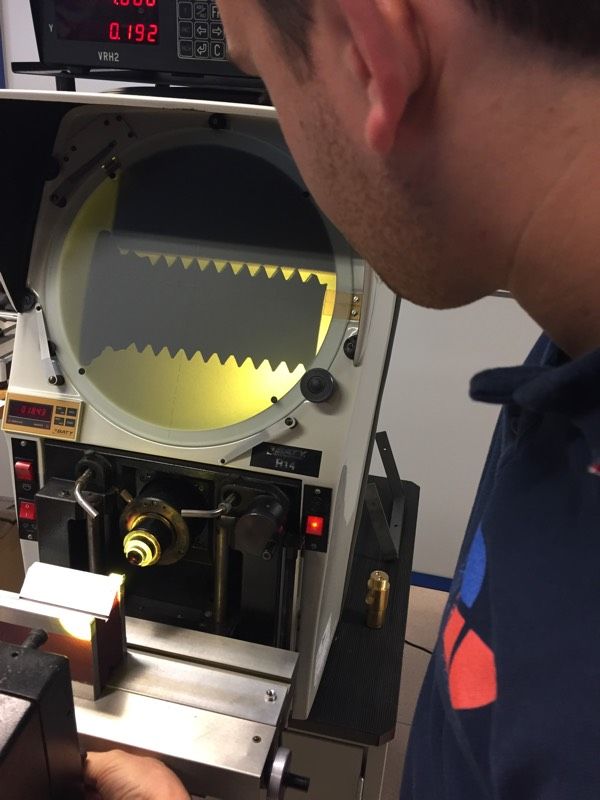 Hardness and strength tests
.
You probably need to carry out tests of hardness and strength of cutting and traction as well as the dimensional verification of different parts and compare it with the declared production drawings.
You need measuring instruments.
One of our customers has been dealing with fixing systems for over 30 years.
Last week, he asked us to examine a bench hardness tester and a profile projector, and perform tests to check them.
The customer has a wide-ranging production: break stem fasteners, inserts, weld studs, self-fixing, screw-on bushes, wire threaded inserts.
Our technicians, Paolo Marano and Andrea Albanese, carried out tests on specific samples brought by the customer: screws and bolts.
They used our bench hardness testers (multi-scale and Rockwell scale) to determine the hardness value in HRC or HRB scale of customer's production.
Then, they made dimensional tests using a profile projector (both vertical and horizontal).
At the beginning, we considered equipping the profile projector with a 10X lens, but, due to the reduced dimensions of screws and bolts, we need to provide it with at least 20X lens.
It is obvious, in this case, how important it is, both for the customer and for us, to make tests on samples before purchasing the profile projector.
The customer could be disappointed and not satisfied by buying an instrument thinking that it would be suitable for the application, but then to find that the instrument is not good for that application by using it, and besides, the production could be delayed.
For us it is essential to know customers' needs before each sale.
It is precisely for this reason that we usually talk to them after every quotation request we receive.
Do you need to check your production?
Speak directly with one of our technicians